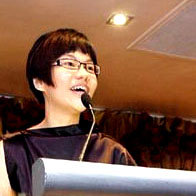 Labelled as the world's top #100 social media strategist, Belinda (洪美燕)helps enterprises remodel their business to transit into the new world of social communication.
Currently Executive Director and Founder of thinkBIG Communications Pte Ltd, the company focuses on strategic brand communications, with a key forte in digital marketing. thinkBIG believes in creating permanent value to a client's business with data-driven communications strategy. Having counselled regional clients such as P&G Asia, CIBA VISION, Discovery Networks Asia, MediaCorp, Coca Cola, Samsung, just to name a few, Belinda continues to strengthen her foothold as the digital consultant with a strong understanding in Asian social networks and behaviour. Belinda also actively involves herself in the education of enterprise social media and was responsible for the development and training of the curriculum at the Singapore Media Academy as a trainer for a WSQ-certified Social Media course, and also in Mandarin to the Singapore Chinese Chamber of Commerce, aside from the industry talks and corporate trainings from time to time across Asia.
Aside to this, Belinda was also a personal social media consultant for world-renown C-level business & brand strategist, Mr. Martin Roll. In the limelight, she wrote articles on marketing for Lianhe Zaobao & has been interviewed on "Good Morning Singapore", "Channel 8 News", 938LIVE, Asia360, The Straits Times & MyPaper etc.
Belinda's diverse skill sets have also opened doors to an exciting career as the Artiste Manager for famed regional Mandarin pop singer, Joi Chua, whom she managed both her music label and career for five years till she successfully signed the artiste to a reputable Chinese company to heighten the songbird's career and relinquished her duties in 2015.
Originally a quirky film major, trained in Temasek Polytechnic, Singapore and Beijing Film Academy, China, Belinda was a natural non-conformist. She started her own fusion cafe when she returned, managing the end-to-end business functions in the 2 outlets. The business was sold after 5 years as a career move to pursue her interest in integrated marketing. She then joined premium event companies, A Group of People Pte Ltd as Event Director & Festival Square Circle as Senior Account Manager. Key accounts include eg. South Australia Tourism Board, General Motors, Fuji Xerox, Singapore Tourism Board, WDA, Marina Bay Sands & Singapore International Water Week among others. Her last employment as the lead Digital Specialist with MSLGroup, Singapore (member of Publicis Groupe) puts her in a position to lend support & counsel to the network's regional office & clients. Projects she led include campaign for P&G Whisper to shift women's perceptions in the taboo topic of periods, came in runner-up in the global Bees Social Media Awards 2010.
Always game for a challenge, Belinda is relentless in her pursuit to acquire and share new knowledge. She is always on-the-go, loves incubating new ideas and each time to pleasantly find herself in places she least expected.
When she puts on her creative hat, she turns her words into artistic works as she pens lyrics for a past-time  (theme songs of three local TV Dramas;《最初的回忆》,《相约,每天》,《I Will Try》 ,《因爱》and a sub-theme song 《不爱被爱》for China-Hong Kong movie, 《放手爱 Let Go For Love》) and writes occasionally as a lifestyle columnist for a local fashion magazine. In her leisure, Belinda enjoys evening jogs, some jazz or lyrical music and chilling over a cup of tea or a glass of Chianti. She also enjoys immersing in the world of films when in need of inspiration and motivation. Travelling is an indispensable part of her learning journey, something she has always enjoyed since young. So you can expect her to pack her bags and embark on a few weeks of adventure every year. Belinda's reading interest spans across a wide range; from marketing, advertising, finance, cooking, to Chinese literature and Japanese manga collections.
For consulting services, speaking or training engagements, collaborate or simply to connect, please contact Belinda at the following below.
To contact Belinda, please
Email : me@belindaang.com
Linkedin : belindaang
Twitter : @belindaang
Skype : mybelbel
Media : Published Interviews & Articles
(Updated 10 February 2016)