My dear friends at Waggener Edstrom kindly invited me to the Sony Ericsson Media Event. Not knowing what to expect (although I did smell a new phone), I went to the event held at Marina Bay Sands on the afternoon of 16 June. Sony Ericsson has chosen not to take part in CommunicAsia this year, but to piggyback on the biggest IT exhibition-conference in the region to create a number of fringe events around it. One is this media event, and the other, a showcase by Sony Ericsson's APAC digital ambassador,  popular Korean girl-band, The Wonder Girls.
I also took this opportunity to speak with Steve Walker, Head of Global Product Marketing for Sony Ericsson to get some of his ideas on their social media strategy for the region. Although I hadn't managed to dig any deep insights from him in the short 10 minute conversation (together with 2 other media), the interview might provide you with some idea on Sony Ericsson's direction in the digital arena. Some of Sony Ericsson's global digital success includes a viral video to market the X1, the W595 Darkside campaign, the Extra Man campaign for 2010 Fifa World Cup, and the C95 Online Photographic Competition, just to name a few.
Sony Ericsson has taken some very interesting plunge into social media as a global effort. With Sony Ericsson's re-brand to align with Sony's global tagline ofmake.believe, there is a lot of potential to expand on this and create new interesting campaigns & outreach. I for one, love the limitless possibilities of this tagline concept (See Jayden's blog as an example on their blogger approach. Less the fact that they actually advocate PAYING for coverage of course). I'm definitely looking forward to more localised campaigns that will excite the local online community.
Before we touched further on the SE event, I would first like to make a comment on the venue. Marina Bay Sands so does not live up to its name. Not only the venue is hardly ready to be opened, the premium proposition of Sands Vegas is totally not felt in this location. We may be looking at something less than a white elephant, but rather, one which we are likely to refer as the empty vessel. The management will have a lot of work to do to up its standards.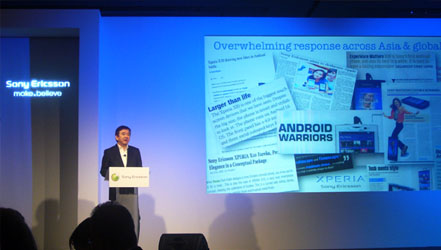 (APAC Overview by Hirokazu Ishizuka, Corporate Vice President and Head of APAC region)


(left to right : Mike Foong, Chester Chen & Joe Teh)
It was all in all a simple affair, there was a surprisingly good turn-out from the invited bloggers. My best guess is many of them have lined up activities for CommunicAsia on the same day so they do not have to apply for too many days of leave away from work. It was good to meet familiar faces like @MikeFoong, @JamCanSing, @DK, @amsie and also finally met @JoeTeh, @triplez82 for the first time.


(left to right : Amelia Wong, ME & DK)
The event was to launch a entire series of new phones from the Xperia series, new walkman phones and an eco-friendly no-frills handset. You can read more about the phone's specifications from Justin Lee's coverage here.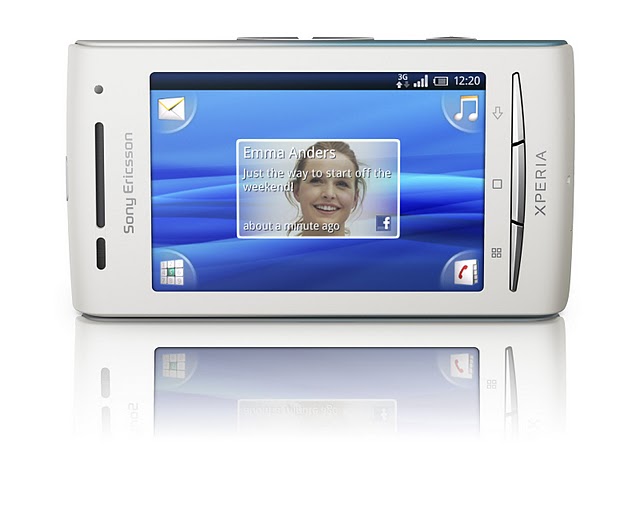 (Above, brand new X8)
(Thanks to Justin on the clarification on the correct model names) The Xperia X8 was the highlight of the evening, the more affordable and smaller twin of the X10, the X8 comes in a number of colourful gradient casings to choose from. But the one that really impressed me was the Xperia10 Mini, which is a very smart design, targeted to fill the missing link between a small and handy but smart phone. This design should suit ladies very well, the light-weight and sleek looking design is also perfect as an accessory to be hung from the neck. Mobile social networking is fast moving towards the mass market and is no longer a gadget for the geek. However, not everyone is ready to carry around a bulky phone and the Xperia10 Mini may just be the solution for this group of people.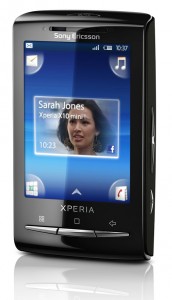 Best entertainment phone or not, I do not know. But it is certainly the stylish phone that Sony Ericsson has always positioned their products to be, making it the most accessible phone for the new kid on the block. I was initially unconvinced by the way the interface works and how it connects with the contacts on the phone. However, after an introduction and demo by Justin, I changed my mind and may just consider the X10 Mini if I ever need a smaller smart phone. The only challenge is that I've never used Sony Ericsson before and am skeptical about the brand & product.