As a continuation to my last post on "HP Knows Social PR".
So? How do you know if your social media strategy has worked?
Answer : When I start taking note of all links and information posted  on your Twitter account, Facebook and actually click on them. Load the site, wait, read every page and register for your event. And end up writing this blog post.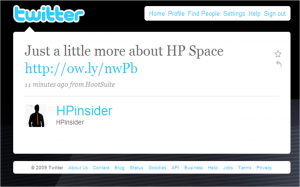 Good job!
A consistent, conscientious and sincere approach is required in all initiatives to see it through success. Especially when your focus is on people.
Because it shows.