I was invited to 2 Hewlett-Packard events in the past few weeks. One for the Touchsmart Personal Computers featuring local visual artists' work, the other is HP City of Dreams to promote HP Workstations.
HP "Touch the Future"
The invitation was extended by Edelman to attend this event held at VivoCity on 11 July. As part of the campaign to showcase the new HP TouchSmart technology, HP worked with a group of local artists  to create a series of digital artwork interpreting the theme of "Touch the Future". These artwork are then animated step-by-step to look as if it is "created" by a "hand" touching the "screen" into a Light Show projected on the facet of VivoCity.
The bloggers were also introduced to the artists in person over a casual drink and snack at Queen & Mangosteen. I have to say a little alcohol made everyone quite happy.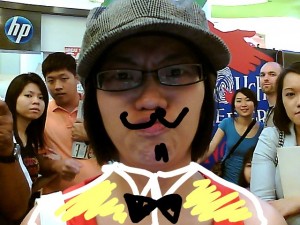 Blogger guests were also introduced to the TouchSmart technology through creating personalised "postcards" using an HP proprietary drawing software. I manage to attract quite a crowd while trying to create the above picture correctly. I was however a little disappointed this software did not allow multi-user interactions. HP TouchSmart is also used as a platform to display the new Windows 7 OS.
HP "City of Dreams"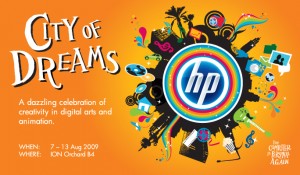 Approximately a month thereafter, I received an invitation from Waggener Edstrom to attend another HP event called "City of Dreams". As an extension to HP's effort in supporting the local creative circle, this event was sparked off with an online HP Lightropolis Contest that seen over 400 submissions. A winner from each category was chosen, encouraging creations spanning different industries from engineers, graphic designers to animators. The event marks as a finale and these winning works are now exhibited at ION Orchard.
To showcase the "Dream Work Stations" of HP, this event invited mainly bloggers with design backgrounds as target audience. The little surprise was that we had to create a desktop wallpaper with the theme of "City of Dreams". I am proud to say my team was the winning team. Not with our design sense, but with a better understanding of the HP brand.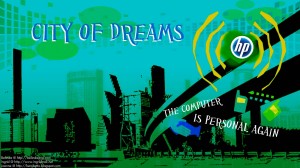 Our team (@iammyy, @berubetto & myself) amused the General Manager of HP by claiming green was chosen as the background colour due to HP's initiative of Green IT. As technology of the future, HP's concern in its CSR activities are further emphasised in this "City of Dreams". It seem that we managed to market ourselves across.  We walked away with an HP Laser Gaming Mouse. Nothing to complain about though I would definitely prefer a TouchSmart personal computer or one of those dream workstations. Haha!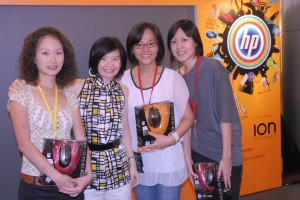 Why HP knows Social PR?
Many of the same bloggers were invited to both events and despite by different PR agencies, the Product Manager from HP had a good memory and could remember some of us by names and occupations. The effort of "following up" and maintaining the relationship is especially essential in building the fundamentals of a direct response channel from the digital population.
HP seems to understand the importance of community influence and attempts to identify these individuals (influencers) as significant word-of-mouth broadcasters for their current & future campaign initiatives.
HP has a successful Facebook and Twitter presence for its CSR arm, "HP Power to Change". Their social media consultant of a managerial level who goes by the name of @HPinsider actively scans the Twitterverse for HP related news and links. Just half an hour before the "City of Dreams" event, @HPinsider made a tweet introducing the attendees. Yes, social media should be managed by someone who is of capacity to answer queries and not by junior marketing staff. Glad HP realised that. Across the board, it looks like there is an understanding of a common corporate direction and digital blueprint in place. It is important that the entire company works out a holistic vision to what they want to achieve out of the digital sphere. And to understand the building these relationships at an early stage for future opportunities is important.
In view of this, I would say they had been relatively successful. I wasn't a big fan of HP before this, but would definitely keep an eye on their future developments. I believe my responses has achieved some of their KPIs. Raising awareness of both brand and product is more relevant for social media than trying to push direct sales. Hence social media should be seen as part of a long-term brand marketing process and not simply a direct sales channel. Relationship with bloggers or social media activists should be viewed as a friendly partnership rather than pure online journalism.
It would be interesting to see how HP further engages CSR in Asia as well as their continued efforts to support local arts.

Are PR Agencies Understanding Social?
After going to a few blogger events, my only disappointment is that not all the PR agencies did a good follow-up job. Basically the invitation, thereafter the thank you ends the relationship. And many of these agencies still do not have their social media domains added to their signature.
To know the group, you first have to be part of the group.
Amongst them, I must say Waggener was active and prompt. Their staff continued the conversations (both clientele related and just regular chat) with the bloggers on Twitter and Facebook and created a bond which could come in handy for many future uses.