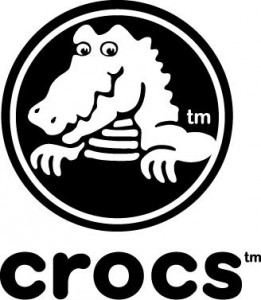 I was invited to a closed-door Crocs's blogger event two weeks ago jointly organised by Lewis PR and Salesforce for Crocs. It was held in the cozy lounge of The Screening Room. The handful of guests were served with a comfortable selection of gourmet tapas.
To be really honest, I was never a fan of Crocs, much less to say that I even liked it. I thought it was a product over-priced, overly-hyped, a fad and ugly. As a member of the individualistic generation, obviously I do not enjoy wearing something that is so highly recognizable and everyone seem to be owning. Those were my introduction lines to JP, the Event Specialist of Crocs Singapore, when asked about my impression of the brand.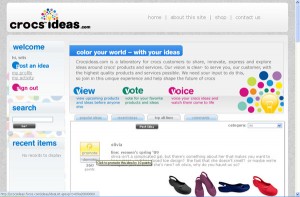 The main objective of this event is to gather feedback on a new engagement site Crocs has designed as an effort to hear consumers' wants and needs. Hence the birth of CrocsIdeas.com. Singapore is chosen as the testing ground for this pilot project before it is being officially launched worldwide. CrocsIdeas.com is generated by Salesforce and works on the same platform as Dell's IdeasStorm. The concept is for users to suggest what they hope to see or have in the products or innovations that can potentially be executed to improve it. Then, users can also "promote" or "demote" the item according to their individual likings. Although not all suggestions may be feasible for production, but if certain items on the list gains popularity, the Crocs team will reply and look into it. If an idea has been adapted, the user will be given credit and possibly find THAT very product in their mailbox when it is launched.
Dell has always been the frontier in adapting social media in its business strategies. Dell's IdeasStorm is an astoundingly successful project and more than 350 ideas from consumers has been implemented since the site was first launched. Another brand that has modelled after Dell based on the same platform, is Starbucks and it has received many positive feedback on the initiative.  Perhaps a shoe-brand like Crocs may receive less attention but such an attempt is a good start and I foresee it could snowball positively if adequate marketing and integration with the parent site is implemented effectively. What Crocs should be careful is not to leave it unmanaged and allow it to become another white elephant. Most brands get excited in the preliminary phases but the efforts are not carried through thereafter. A common feedback about Dell's IdeasStorm is that there is lack of interaction and engagement from Dell's marketing team on the site. Which, is something I casually voiced out to the marketing team of Crocs. Consumers generally do not enjoy talking to an "administrator" or a "logo". Putting a face to a response helps in bridging the relationship. And such loyalty is what brands really want to establish over the long period.
Genuinely, there are things to be excited about in Crocs's new range of footwear. I hated the classic design because I had no idea why I am paying so much for a piece of plastic. Apparently, I was convinced I'm wrong. Crocs are recommended footwear designed for therapeutic relief for a number of foot conditions. Did you know that? Well, that's pretty new to me indeed. The intention is for you to feel like you are walking in the air when you wear them. I may be weird, but I didn't really like weightless shoes. However, I tried on a few pairs and hmm… I don't hate them. I am convinced that I can give them a second chance. Most importantly, they understood they had to innovate and explore a wide variety of designs for different people. No one shoe fits all but everyone should find a shoe that fits them. "Shoe the World", that's what Crocs is trying to achieve. But the common perception of Crocs in Asia has been mixed extremes. Will the strong image of Crocs as simply a fashion fad cover the true quality of what seems to be like a down-to-earth wear? It would be too early for a baby brand like this to say if it will be successful but there are some headways made as far as I can see.
And to end it off, here's a preview of some unreleased Crocs design.