I was doing some research and browsing Chinese social sites for the past few days. Came across this article and I thought it'd be interesting to translate it into English for the greater reading pleasure of the larger population.
(Translated from Original Source Here)
---
Are we entering the era of mico-blogs this year with Twitter, FanFou, JiWai and DiGi?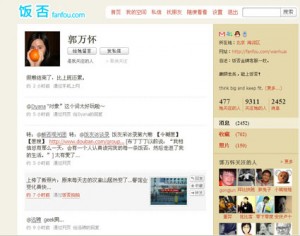 In 2009, when the negative news of professional blogs, faced with pains of survival, retrenchment, transferring of ownership and difficulty in finding a financial model are surfacing, a different type of "blog" – news of the "micro-blog event" streams in unceasingly. From how Obama made used of Twitter to rally support in the Presidential elections to how FanFou was used in rescuing a young girl, "micro-blogs" is gradually gaining attention from the mass.
In Wikipedia, Micro-Blogs are described as… "a form of multimedia blogging that allows users to send brief text updates or micromedia such as photos or audio clips and publish them, either to be viewed by anyone or by a restricted group which can be chosen by the user. These messages can be submitted by a variety of means, including text messaging, instant messaging, email, digital audio orthe web." In actual fact, micro-blogs were first created in 2006 when founder of Blogger.com, Evan Williams launched the service under his new company, Obvious. Thereafter, creator of XiaoNei.com, Wang Xing replicated Twitter and launched China's first micro-blogging site, FanFou.com. Now, it has evolved with  a series of micro-blog sites like JiWai, ZuoSha, TaoTao. "Micro-Blogs" has achieved pretty good development in terms popularity and usage. One can't help but look forward to a future of a "Mass Micro-Blogging" era.

The Trend of Micro-Blogs
"Where's best to dine and gather in west of Hangzhou, treating friends to a dinner", "I fell in love with 'A Dream of Red Mansions' all over again, hence a classic", "Suddenly feel like watching Wang LeeHom's concert…" to Ms. Jiang, who's working with an IT firm, logging on to FanFou to yak about her thoughts is just like logging on to MSN, it has become a habit. It has been one and a half year since she registered for her FanFou account with her colleagues, she has already left more than 500 messages on FanFou. Approximately one per day.
The "FanFou" that Ms. Jiang visits on a daily basis, has the nickname of Twitter's "China clone". Its functions are similar to Twitter. Simple interface, with a status column at the top with the words, "What Are You Doing?". You can only enter 140 characters in the column. Under the status column is a listing of your friend's latest status updates. You may also reply, forward or favourite these statuses. And on the right, are your data and messages from your friends. In addition, apart from posting through the web, it can also support mobile, sms, mms (photo), QQ, MSN, GTalk robot and API etc.
"To be honest, I'm getting more and more attracted to micro-blogging." Having hung on this simple website for almost 2 years, Ms. Jiang did not seem to be getting tired of it, but rather, growing a dependence on it. This has alot to do with the growing trend of "micro-blogs". Especially since the beginning of this year, more people are joining "micro-blogs", and the followers on Ms. Jiang's list have increased along. "Nowadays the messages received on FanFou are more interesting than before." Ms Jiang's sentiments are not with no grounds. America's independent research group, Compete ever did a research on America's local statistics. In 2008 alone, Twitter's membership increased by 6.5 times.  As of December 2008, Twitter's unique visitor-ship has hit a high of 4.43million.
Apart from the increase in user numbers, the various "micro-blogs" which sprouted in the past one year has revealed traits of popularity. In China alone, there are about 10 big and small of such sites including JiWai, DiGu, ZuoSha, TaoTao and so on. "But all these sites almost the same with each other, imitating Twitter, I still prefer FanFou." Ms Jiang said.

A Display of Fast-Food Culture
"People today live in a fast-food culture, without much patience to write long-winded articles. These single-liner blogs are more suitable to record those random thoughts that flash across our minds." Ms Jiang admits she was willing to try "micro-blogs" in the beginning due to its convenience. Definitely as compared to traditional blogs, "micro-blogs" are much more convenient and casual. Netizens are always wandering on the Internet every second, creating their own records, and it is hard to keep track of these records. But "micro-blogs" are capable of recording these movements in real time. Signatures on IM can be sent automatically to the "micro-blogs". You can send your sights and thoughts through your mobile to your "micro-blogs" when you are on the move. It can be said that "micro-blogs" is the cross-platform that record all the records of every netizen. "Almost everyone has at least one blog. But how many actually has the energy to consistently have an updated frequency? But in FanFou, I can casually put in a message, could be senseless or just rantings, won't take me much time. This is something everyone can and is willing to do," said Ms Jiang.
A New Media for Grassroots to Disseminate News
Although Ms. Jiang was first attracted to the convenience of "micro-blogs", but the fact that Ms. Jiang is still infatuated with "micro-blogs" has many other reasons. "I use FanFou has my main source of news, I will take note of breaking news from a few news source, for example new IT products, IT reviews, current affairs etc." the reason why Ms. Jiang is enthusiastic about "micro-blogs" is exactly the advantage why more people are taking notice of this service. As the user base for "micro-blogs" is huge,  and dissemination of news is convenient, hence it is gradually turning into a new media for grassroots to announce information. An example is the WenZhou earthquake that happened on 12th May, 2008. The exact time of the earthquake happened at 2.28pm, and the first tweet about the earthquake appeared on Twitter at 2.35pm (GMT +8). Twitter became the first media in the world to break the news of the earthquake. On 30th December, 2008, Embassy of Israel in New York even held a press launch on Twitter as a public response to the problem of Gaza. This event is known to be the first ever "Government" press conference held on the Internet.
"Despite FanFou is filled with all kinds of people, but don't assume that they are all 'grassroots'. There are also many celebrities, and the news they announce are rather authoritative." The 'celebrities' that Ms. Jiang is referring to are not only those who have become rock stars on FanFou but also those who hold a certain status and reputation in society. Traditional bloggers celebrities like Wang XiaoFeng, Lian Yue are also popular on FanFou. Each time they update their content, it will attract a lot of followers. "Don't under-estimate these fans, there's quite a lot of them!"
Mobile Internet Generation Will Become Mainstream
"From the viewpoint of an IT professional, I am optimistic about the future developments of "micro-blogs". But it will not take off too quickly in China in the next few years." Although enthusiastic about "micro-blogs", Ms. Jiang remains logical in her analysis on its developments. "The format is still not easily acceptable by many." As a pioneer user to experience the growth of "micro-blogs" in China, Ms. Jiang naturally has reasons to her judgement. Although there is an increase of the people using micro-blogs around her, but the community has not change much. The majority is still largely made up of people from the IT or related industry. The other communities do not spend so much time on the Internet, mainstream public are still used to working in the day and playing games or spending time chatting at home in the night. "Only when those users and communities who spend a lot time online matures, then there is a chance that it could seriously become useful," said Ms. Jiang.
"Micro-blogs are not developing to its fullest partly because mobile phones are not that common yet. When we've reached the mobile Internet generation, when micro-blogs are integrated into mobile phones, it will become mainstream." Internet Observer, Fang XingDong predicts the same forecast as Ms. Jiang. But he thinks that the reason why "micro-blogs" are under-performing is not due to the habits of the users but the popularization of mobile phones.  In Fang XingDong's understanding, blogs have always been an accumulation of knowledge and use of communication. Blogs will continue to develop towards these two ends.  Traditional blogs can be a medium with insights and develop in the direction towards elite or professional blogging. And "micro-blogs" are in between instant messaging and traditional blogging, to strengthen use of communication. "Future 'micro-blogs' will also be a new media, but mainly used to provide news, not in the arena of insightful media," Fang XingDong forecasted. (by Guo Pei)
---
Curious on what each "Twitter-clones" in China has to offer? You can find me on the various platforms.
FanFou : http://www.fanfou.com/belindaang
9911 : http://www.9911.com/wits
DiGu : http://www.digu.com/belindaang
TaoTao : http://www.taotao.com/v1/space/89409707