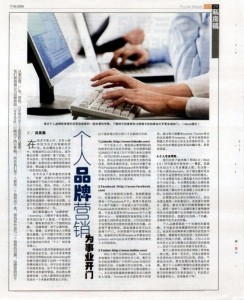 My second article with Lianhe Zaobao was published on 17 May, 2009 without my knowledge. Luckily I manage to get a copy of it from my colleague. The article provides an overview and introduction of importance of Personal Branding and how it can potentially tap on digital media as a platform. What you read here is a brief take only, which a detailed account would probably not have adequate space on print as I would have wished.
Here's a brief translation of the article for your reading pleasure.
---
Personal Branding in the Digital Age
In the midst of the economic crisis, many people are starting to worry about their rice bowls. Among the many job seekers, how do you make yourself shine from the rest, to become the primary choice for your potential employer? Aside from experience, qualifications and skill sets, have you ever considered about your professional image? If you are working in the field of marketing, then perhaps this article may be able to offer you some fuel for thought.
In the competitive environment today, "packaging" has become a common and essential keyword in our everyday life. Regardless of the things we eat, wear or use, almost every product needs to undergo a process of packaging to attract the interest of the mass consumer. Even enterprise and government agencies are actively packaging themselves and revamping it into a new and refreshing enterprise brand. So to transform itself into an eye-catching brand culture that will fit into the society today.
Most of us have the common impression that branding is a commercial strategy. In actual fact, all of us are unique individuals, with qualities that can evolve into a unique brand. "Branding" is extremely important, especially to those in the creative, advertising, marketing and PR line of work. This is not only limited to the professional knowledge required at work, but how to effectively use it to construct a personal image.
The lightning evolution of technology is gradually changing our social cultures. Social networking, which has become increasing popular in the past few years, comes in timely to create such an effective and free demonstration platform for us. To folks who are considering a shift in career, this platform has also created a channel to transform your professional image. This will allow others to get to know you from a refreshed angle through direct interaction, by repackaging your personal brand.
Following are introduction to some social networking sites that are mandatory to check out.
Linkedin : This is a site designed for professionals, especially those in the field of marketing technology. Currently, it consist of more than 35 million users from over 170 different industries. You can upload your CV with Linkedin, exchange industry news and engage in friendly discussions with people of the same interest. Its network may look to be smaller than Facebook or Myspace, but it is concentrated with industry specialist from around the world. There, you can effectively establish very useful connections and relationships.

Facebook : I believe everyone is very familiar with Facebook. According to statistics, approximately 19% of

Singapore

's population owns a Facebook account each. That is almost 760,000 people logging on to this social network at least once each month. Contents in Facebook are relatively less formal, therefore if you choose to use Facebook as one of your personal branding platforms, then you must be careful to manage the different messages communicated between your professional and private image. We are usually at comfort with our shortcomings in the face of our close friends and family. But this is a very serious taboo. Hence I propose that you consider having two accounts to manage the different nature and needs. Or you could also make use of Facebook's privacy settings to determine which contents are suitable for what audience.

Twitter : As compared to the other two social networks above, this is a relatively new social media tool in

Singapore

. Obama made use of Twitter extensively to reach out to Americans during the Presidential election period. It created a lot of positive responses. Since then, it grew to become a mass media in many parts of

United States

and

Europe

. Whether it is getting the latest breaking news or making connections with enterprise celebrities, Twitter has proven to be a very effective tool for these purpose. Through frequent daily tweets (messages sent through Twitter are known as tweets), you can build and establish your professional image and positioning over a long term. It can also increase exposure and attract more readers for your blog.

Professional Blog : We definitely cannot ignore the representation of Web 2.0, which is the blog. I recommend that before you publish your professional blog, you first register for a personal domain. This domain could be your name, or a handle that you most commonly use in other social networking sites. The biggest difference between a professional blog and a personal blog is in the selection of contents. A professional blog is an important link to building your personal brand. It enables your followers to better understand your views and analysis on professional topics. This will allow them to further affirm your industrial knowledge and standards.
When managing the many social sites, you should also take note in maintaining a uniform style design. Additional care must be taken in the selection of photographs, colours, handle/name and bio. Having the same personal brand image across would ensure netizens will have no problem identifying and locating you regardless of whichever social site they may be browsing. I propose that you approach it in a witty, friendly yet professional treatment.
Personal branding is a long term image strategy and simply cannot be built only when its needed. Having merely presence on these sites are not adequate. A certain amount of time must be invested daily to expand your online community. Back to the basics, human relationships has always been built on the foundations of sincere communication. And this society rule had never changed with time.
Everybody wants to become a rockstar on the digital sphere. Those who will really shine can only be told with time. Hence, don't be too hasty with results and expect returns within a short term. Building a personal brand reputation requires first and foremost sincerity and unwavering passion. Only when you understand its true importance then will it open doors for your career.
Opportunities are only for those whom are prepared. Are you prepared for it?
---
I definitely don't think the article above does justice to the topic of Personal Branding in the Digital Age. Much needs to be further emphasized and explained on why this is an important consideration for people who desire to excel in these fields. There is also a lot more to say about the benefits it can reap with a successful personal brand.
I will probably try to work on a separate post here that attempts to touch a little further on the topic. This could take awhile considering a very busy month ahead. However, I would be more than happy to discuss this topic with you. Just drop me a buzz at @belindaang on Twitter or beep me any time over my email.
Your comments and inputs are greatly appreciated.