Hear hear…
After the Domino's effect, it has become ever more obvious that Crisis Management is one of the most important function of every PR person in a company. In the digital age today, it is almost impossible to take absolute control of every individual and tiny bit of information. Many a times, the bad PR would have found its way into the mass faster then you can say, "SXXX!". And just in case you missed all the action, Adage gives an overview on the "cheese in the nose" incident here. And guess what, the two protagonist of the prank video are facing charges, as reported by NY Times.
Traditional marketers usually attempt to lie low and wait for news to subside as people tend to (used to) have a short memory when overwritten with news of the following day. But things online is a quite different scenario. News don't simply get overwritten. But rather, they get passed on and duplicated in multiplies. People talk wildly about them, make assumptions and create a large snowball effect that could have an unimaginable damage. One that can get out of hand and destroy an entire brand, if not dealt with properly, and timely.
Domino's was critized for not responding to the issue promptly. But on realisation that these rumours are not going to stop and customers are quickly losing trust in the brand, they reacted swiftly to turn the tables around. Domino's incident started off with a viral video. Domino's decided to end it with a viral video.
As touched on previously during the China's melamine poisoning incident, hiding facts or pretending to be an ostrich no longer works. Likely that the most positive PR is really to face the issue oncoming and find all possible ways to minimize the damage and rebuild brand confidence. Taking criticisms positively may also help to calm and convince consumers in one's willingness to listen and address the problem. Consumers wants to know what IS to be done, not what cannot be undone.
But what really prompted me to write this was not Domino's. I mean yes, Domino's affair caught my eyeballs and I was having a whole lot of fun following the news. There are no Domino's in Singapore, so I guess what doesn't really concerns me won't affect me too adversely. However, one incident DID affected me.
Just last Wednesday, I posted a blog post on "How Companies Are Using Twitter" and commended on the proactiveness of Midphase (my web hosting company) in addressing customer satisfaction issues. I was given much confidence from the General Manager himself on the service quality and was promised downtime wouldn't happen again. That was last week. I was happy for a couple of days and tweeted positively about it. BUT today, not only was there a server outrage, emails were down but the entire Midphase iterally "disappeared". Even their own company site and support systems could not be reached. No one is attending to their Twitter accounts. GM Marc Bollinger's last message was 8 hours ago and their parent twitter account @Midphase was 16 hours ago! It was creating a nervous breakdown for many customers who anxiously hanged online to wait for any possible news.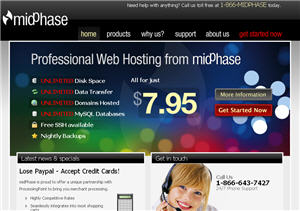 Reviews on Midphase's services has been dropping quickly since 2008 when their service quality suddenly deteriorated. With 71,900 domains owned by Midphase and hosting on their servers, you can imagine the kind of anxiety each and every customer is going through. Customers are not demanding an immediate restoration. Customers demand and has the right to know what is going on. However, that channel was not made readily available, especially essential for a company with such a global customer base. I had to make a long distance call to the United States to find out what is actually going wrong. As I do not have any existing number with me (website is down). I am for once grateful that Google caches information. (Not grateful for this all the time as their cache caused me a lot of trouble once).
About 3-4 hours later, the service came back on. When the General Manager for Midphase,  Marc Bollinger woke about 6 hours later, he was overwhelmed with the unhappiness and short of explaination to customers on the outrage. People (including me) were coming together over twitter, making wild assumptions and threatening to terminate the service due to frequent downtime. Marc quickly sent a personal apology to each customer and the Midphase blog was promptly updated to explain the issue. Although he explained he was asleep at that hour, the promise of a 24/7 service has been broken and it has shook the confidence of customers in a big way. Isn't it ever more prevailing that value of customers are invaluable especially in times of recession where businesses are constantly trying to cut each other's throats to stay afloat. Competitors will be more than happy to benefit from the spill over of this effect. 
So you can see, social media does not necesasary only cause damage to big brands, but small companies can suffer as well. This is of course, largely dependent on the type of business you are in. But a digital crisis is not something to be seen lightly as. Regardless if your company is big or small.
Post-Domino's Effect
After the much hyped Domino's incident, PR agencies are sitting up and relooking into ways to tackle digital crisis when they happen. Niall Cook, the Worldwide Director of Marketing Technology for Hill & Knowlton posted a question on twitter yesterday,
"Thinking about a rapid response Twitter app for companies to use during a crisis. Any thoughts?"
As quoted from Adage on the aftermath of the Domino's case, "In Just 24 Hours, Clip Has Received 760,000 Views, and Warrants Are Out for Offending Employees' Arrest." Los Angeles Times quickly churned out an article reflecting the on recent incidents on how the businesses of CNN, Amazon and Domino's are affected by the power of Twitter.
Like it or not, brands don't really have a choice to the kind of publicity they want in digital age. The only way to counter the game is to be part of the game. Like they always say, don't wait for customers to come, be where your customers are. And obviously, where your customers are, will be where the action sparks too. 
I am no PR expert, although I am trying to hone my skills in this area. Perhaps PR gurus can drop your comments here on
how you think a digital crisis could be better managed to minimize damage and what is the desired minimum time delay of responses.