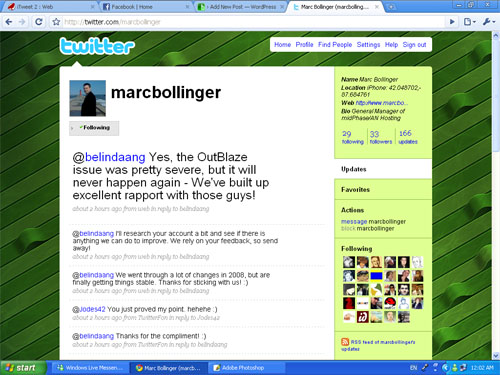 I was quite pleasantly surprised today. Just a couple of hours ago, I received a tweet from @marcbollinger. And he signed off as GM of Midphase, which is my host. Just this afternoon, I was complaining about my email having problems. Apparently, he did a search for "midphase" and reached out to lend a hand to the customers who are on Twitter. My my… am I impressed.
I had been a long time customer of Midphase and have always enjoyed their prompt and polite customer service. However, the hosting service seem to have detoriated in the past year. I had to sigup for a backup host somewhere else while retaining my service for my primary domain. Their GM's personal tweet and response to the ticket has made this relationship ever more special. As a consumer, I'm telling you… it makes a difference.
Many large MNCs have began exploring Twitter as an alternative channel for feedback and direct customer reach. It has also evolved to become a sales channel with exclusive deals just for Twitter followers. The potential is endless.
Dell claims to have exceeded 1 million in sales using Twitter. They currently have approximately 32 Twitter Accounts, all targeted at different markets for different purposes. Dell listens and builds according to the needs and wants of the market. You can't blame consumers for loving them in some ways. I am using a Dell, by the way… (not that I love them, it's affordable!)
But for small companies to use Twitter, not many have jumped on the wagon yet. Or perhaps, not many are really known to be using this medium yet. Many airlines, transportation companies, traffic reports, radio stations have all started using Twitter to inform customers of changes in services and to pick up complains so that crisis and unhappiness can be managed and handled at first point of eruption. This not only increases overall customer satisfaction, the active (instead of passive) approach (just like what Midphase did), more often than not, puts a smile on the face of this once disgruntled customer, who now will broadcast the good name of the company.
Salesforce.com has associated Twitter as an indispensable CRM tool. Not only did they use it at an early point of their business to market the new service, they use it as a consistent customer feedback channel to keep customers feeling involved. 
Customer service is no longer about passive response. Customer service today cannot wait for a complain to arrive. They have to go out there and seek to solve the problems in the wild. A good customer service is one that goes out to the customers, not the other way round. Today, if I'm unhappy, I'll walk out of the store, wire up with my iphone and tweet about how bad a service is. Think about how much time a brand has to do damage control. Crisis management is required almost immediately. Well, unless you never pisses anyone off, which I really believe is not possible.
Seriously, I cannot figure out a much cheaper and more effective way to provide great customer service like this. Yes, we know NOT everyone is on Twitter, but a good company with online presence should try to exploit every possible way of building an effective B2C relationship with their customers. 
Setting up an effective call centre or customer support system could get quite costly. Twitter is free for now, and even if they start charging, it is still a viable and great way to reach out. Twitter has evolved beyond simply a messaging or micro-blogging tool. But rather, it has become quite a community by itself. People are connected, they share, exchange and build new offline relationships. It is smarter to be "included" now than "excluded" later.
A quick search on Google targeted at Singapore pages revealed disappointing results. I can't find any local company who is utilizing Twitter for their business yet. Not even our Big 3 Telco firms, Singtel, M1 or Starhub. Some may say Plurk is more popular in Singapore. But no, they aren't on Plurk either. The only way to reach them is either I walk in, send an email and wait for a reply (if any) or hold on to the phone for half hour (or more) and wait for someone to pick it up. More often than not, a voice recorder talks to me. (Note : In all these options, I'm approaching them. Not the other way round). 
Some possible advices for SME who are thinking about tapping on Twitter.
Be a user, not a spammer.
Use the service, have a desire to connect and engage in conversations. Twitter is not a notice board. You have to reach out and not just shout out.
 
Human face, human tweep
Please, please, please don't use a robot. You could have an official company account with your logo, but do have another of a managerial level or someone people could speak with that has a name to a face. There is always greater sense of relation to a face than a logo.
 
 Use Twitter Search
Search for keywords like your company's name. Observe conversations and take initiative to reply. Provide solutions and assistance. Don't just attempt to be "around". 
 
Start a Hashtag


Once you make yourself known to the Twittersphere, you could attempt to start a hashtag. For example #companyname. So whenever someone has anything to say that they want you to hear about, a hashtag can be added to the tweet. It makes your search easier and much more organised.

 
 
Know what your Twitter Account is for


Dell has 32 accounts for different purposes. Know what your account is for. Don't confuse followers who may decide to unfollow you the next minute. As with all other tweeting rules, grow a twitter asset, not a liability. People want to follow only when you are a valuable addition. Twitter is a demographic targeted sphere. So, know your customers.
For Singapore or Asian companies who are just beginning to explore social media as a channel of outreach, please feel free to contact me at me@belindaang.com for consultation. I will be happy to provide you with the advices, steps and necessary management of your online blueprint.